Welcome to the August Edition of the Lore Link Newsletter!
It's been an exciting past month, so let's fill you in on what's been going on with Lore Link! The most recent big event was Gen Con, based right here in the place many of us call home, Indianapolis! I (Mark), spent most of the weekend in and around the convention either playing games, running games, or looking at new ones. It's always great to get a chance to see upcoming RPGs as well as ones I might have missed that have come out in the past year. I definitely picked up some ideas for future games for the Twitch Streams (more on that later). I also got a good chance to talk with people about what we're trying to do with Lore Link. It's always good to get feedback from people outside of the team, and find out what others priorities are.
Speaking of feedback, another great way for you to give us feedback is through our Alpha program. If you're not already signed up, click this link to sign up and see what we're up to: Lore Link Alpha Sign-Up Form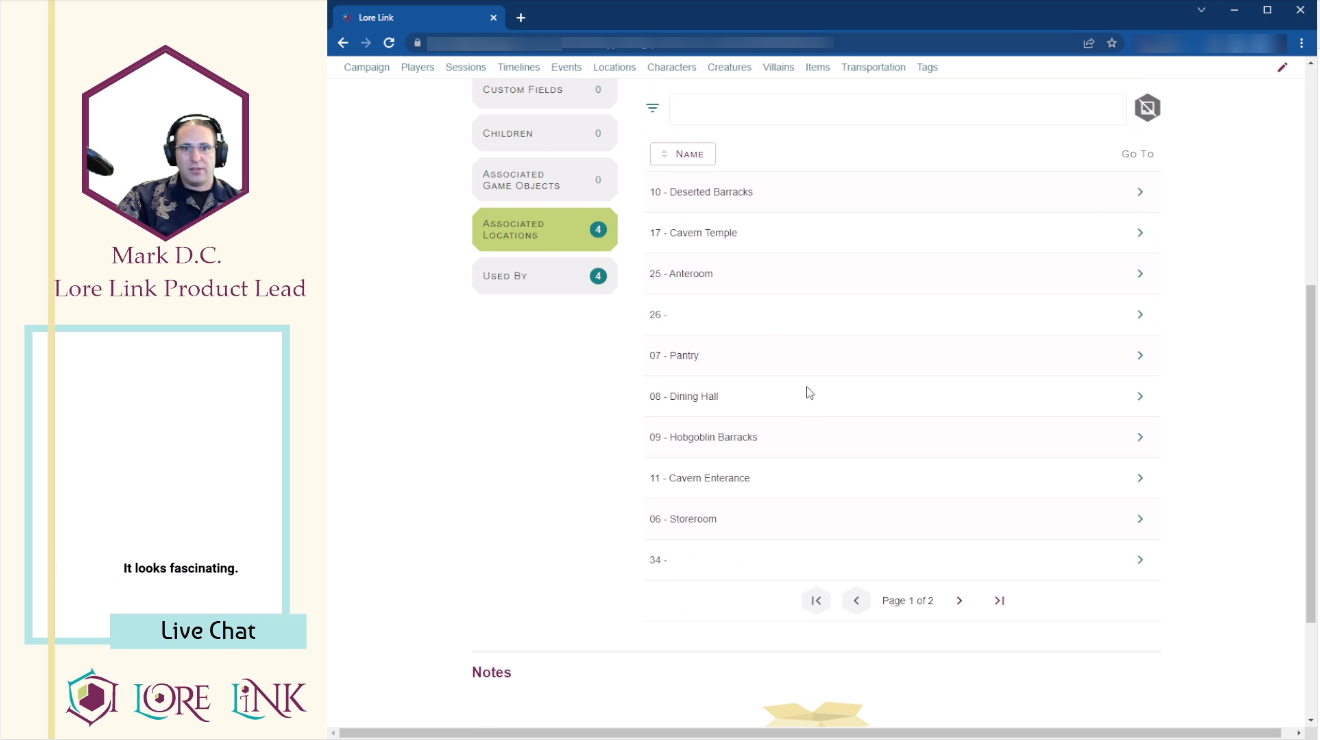 The biggest news from Lore Link these days is that Lore Link is now streaming on Twitch! I'm running a series of weekly Twitch streams to get more involved with the Lore Link community and show off how I personally use Lore Link to run games. To show off Lore Link, I'll generally run a planning session to show how I'd build out a campaign using Lore Link, and talk about challenges GMs face running various games. Then I follow that up with actual play sessions with members of the Lore Link crew to show what Lore Link looks like in action while I'm running a game. Most recently, I ran the crew through one of the Pathfinder Organized Play short Quests, which saw the group trying to get a pirate to sign a contract. When things inevitably went south, we saw just how destructive some of our players could get! Lastly, every once in a while I'll break out a video game that's related to the TTRPG industry to play through to talk about the history of video games and TTRPGs. From early Intellivision games, to 90s arcade games, and finally to more modern interpretations there's a lot of real interesting games out there to look at! I'm currently streaming every Tuesday at 5 PM EDT over at twitch.tv/lorelinkrpg so drop by, give us a follow and watch as the chaos unfolds! Click here to visit the Lore Link Twitch Channel.
If you want to see more of the Lore Link team attempting to fight their way out of trouble of their making, I'll be running a TTRPG session for the Extra Life Charity come September 9th on Andromeda Galactic's Twitch channel! Come enjoy the chaos and give money to help support children's hospitals. Click here to visit the Andromeda Galactic Twitch Channel.
So what's coming next outside of Twitch? Well, the Lore Link team is going to continue development work as we get feedback from our users. Also, we're going to be revamping our website in the coming weeks to provide more information to people looking at Lore Link, so look forward to that!
Till next time, may your players pick the path that you actually spent the night planning for!
Mark Della-Croce Lore Link Product Lead