Happy New Year!
Looking back / Going Forward
Happy New Year!
Mark Della-Croce here again to recap 2022 and talk about what we hope to accomplish in 2023!
2022 was a busy and somewhat scary year for Lore Link, as we went from a mostly internal project, to actually getting the project out in front of people. We started our alpha test in March in order to get out of our own heads and get feedback from actual users. Additionally, we started our Twitch stream to help put faces / voices to the names of people working on Lore Link as well as to show off the breadth and range of Lore Link in action. We used Lore Link to run games in Pathfinder, Starfinder, Vampire: The Masquerade, and Feng Shui 2! You can catch the archives for those streams here at our YouTube channel and catch the stream live over on Twitch every Tuesday night at 5pm EDT! We also had fun streaming for charity, working with Andromeda Galactic to support the Extra Life Charity for Riley's Children's Hospital. Along the way, we kept working on the application, adding new features like Templates and Rules References. Lot's of excitement…and that's just all the public visible stuff, there was tons of work in the background to set up for 2023.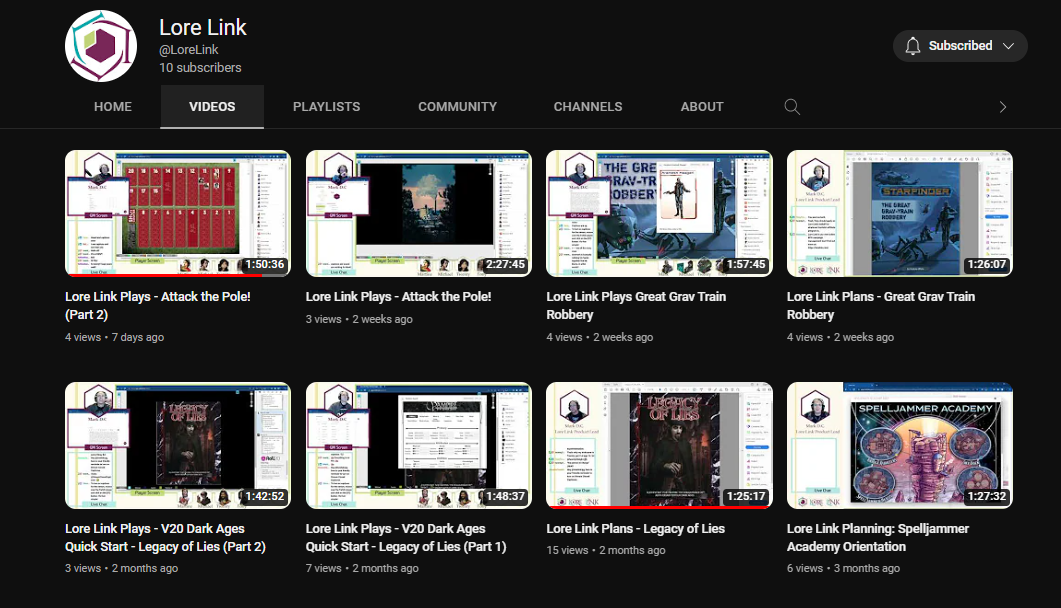 Here's some of the videos we made over the course of 2022, now available on our YouTube channel!
So what's happening in 2023 you ask? I'm glad you asked, imaginary stand-in for the audience! First of all, the Twitch streaming! We will revisit old favorites like Pathfinder and Feng Shui 2 (catch the VODs of those streams over on our YouTube channel to see the players fight against the Grinch and an evil Clone of Hitler who are trying to take over the North Pole!). We will also show off using Lore Link in other types of RPGs from Blades in the Dark to Fate to indie gems like Floria! The games stream will continue, so you can watch as Mark and others wrestle with craziness that makes up TTRPG video games like the old school D&D games and even strange ones like the old Shadowrun, Paranoia, and Battletech games. We'll also start a new feature on Twitch streams where we'll bring other people in the TTRPG industry to talk about other important aspects of the industry!. Outside of Twitch, you will have more chances to see us in public at local game stores running games, conventions like Origins and Gen Con, and other exciting experiences. Of course, all of that is with the goal of officially launching the beta version of Lore Link in 2023.. Keep reading these newsletters to see previews of upcoming features like the Map Hotspot, Encounter Manager, and the ever popular Dark Mode! And of course, we'll give you news about how you can join the beta once that becomes available!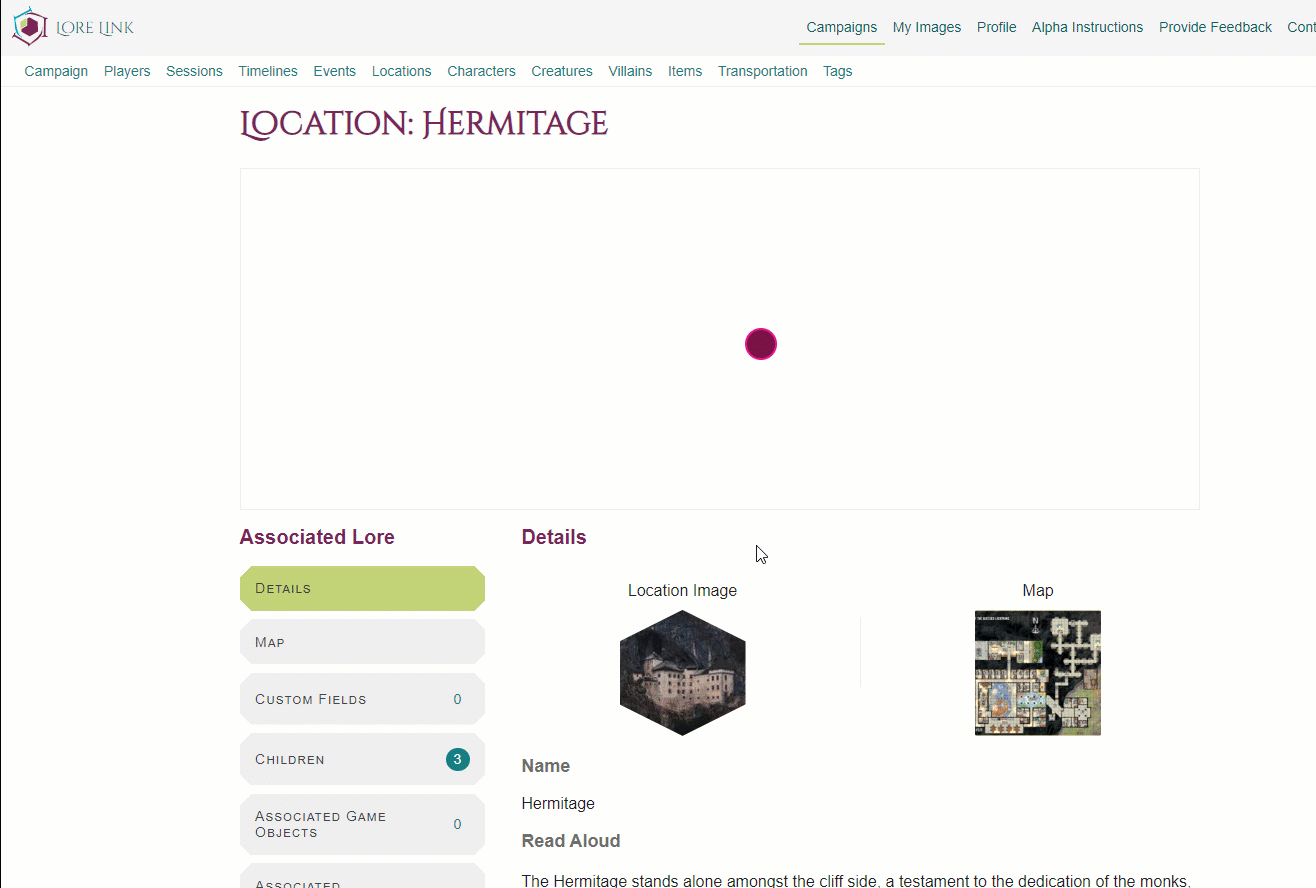 Another sneak peek at the Map Hotspot functionality!
All exciting stuff, and we're excited to be able to share it with you going forward! Thanks for taking time out of your busy schedules every month to read these and we'll be looking forward to sharing our progress with you as we move on!
Mark Della-Croce- Lore Link Project Lead